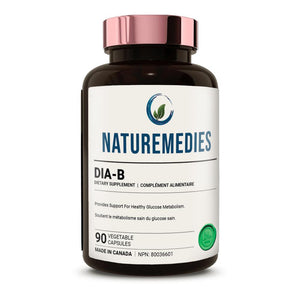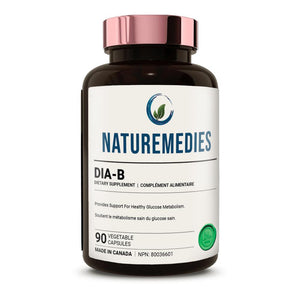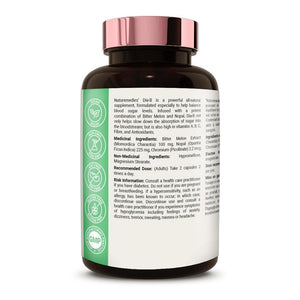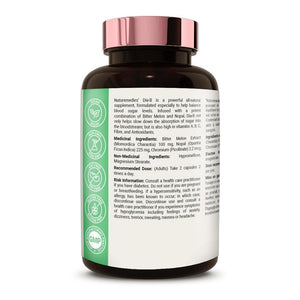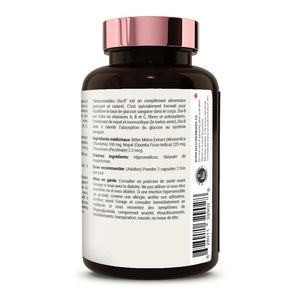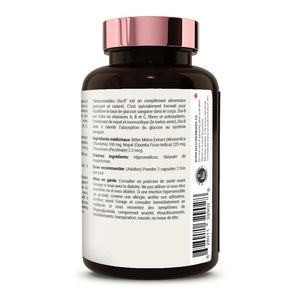 On Sale
Dia-B
Discover the Benefits of Dia-B Supplements!
Wondering how to manage diabetes? Ensuring that your blood sugar levels are stabilized is essential. Did you know that Ninety per cent of Canadians with diabetes are living with type 2 diabetes, and that it is one of the causes of stroke? Establishing a diabetic diet is important, but there are times when we all need a helping hand. In times like these, consuming a daily supplement can be highly beneficial in managing your diabetes.
When it comes to blood sugar level regulation, look no further than our Dia-B supplement. Specially formulated to balance blood sugar levels, our customers are able to enjoy a healthy glucose metabolism and reduce their risk of metabolic syndrome when incorporating Dia-B into their daily diet.
This great supplement is comprised of both Bitter Melon and Nopal which have been proven to slow the absorption of sugar into the bloodstream in recent studies. Alongside this fantastic benefit, you are also enriched with essential nutrients including vitamins A, B and C when you choose Dia-B. Read More
Organic Dia-b Products and Great Customer Service is Guaranteed
When it comes to vitamin suppliers, Canadian residents and beyond choose Naturemedies (best place to get vitamins online in Canada), time and time again - and for good reason. From the quality of our products to the professionalism of our customer service, we are second to none. When you choose to buy your supplements with us, you are choosing:
Organic Ingredients
We strive to make the world a healthier place using natural remedies. As a result of this, we make all of our products using only organic ingredients. Not only does this give back to the environment, but it also provides our customers with better quality supplements. When you purchase from us, you are guaranteed nutrient-dense products that are free from harmful toxins and chemicals.
Dedicated Customer Service
We understand that not everyone is an expert in vitamins and supplements. With over 20 years in the industry, our customer care team are knowledgeable, experienced and truly care about providing you with the best service possible. Get in touch to learn more about our Dia-B supplements.
Worldwide Shipping
We work hard to make our products accessible and affordable for all so offer worldwide shipping. Whether you are based in Canada or beyond, you are able to receive the great benefits of our Dia-B vitamins.
Independent Testing to Confirm the Purity of Our Dia-b Ingredients
Customers shop with confidence when they choose Naturemedies. One reason for this is because we offer full transparency of the composition of our vitamins. All of our products are produced right here in Canada and are approved for consumption by Health Canada. Our ingredients are natural and organic and independent testing has confirmed that we only use the purest ingredients that are packed full of nutrients. We have also received our Halal Certification and can confirm our products are free from GMOs, alcohol, gluten and gelatin.
Improve Your Health Today with Our Dia-b Supplements!
It's time to take control of your blood sugar levels, and manage & prevent diabetes. We recommend taking our Dia-B supplements alongside a balanced diet. We also provide natural health vitamins and collagen supplements Canada on our online store. Browse this fantastic product online for more details or get in touch with our friendly team to learn about the benefits in more depth. We look forward to speaking with you soon. Read Less
MAINTAIN HEALTHY SUGAR LEVELS NATURALLY...
Provide your body with the best support for a healthy glucose metabolism. The health concerns of unstable blood sugar levels have been well-documented in recent years. Although diet and lifestyle modifications are the most powerful measures one can take, there are a number of nutrients which can complement these efforts to support healthy blood sugar levels and manage diabetes symptoms.
Naturemedies' Dia-B is a powerful all-natural supplement, formulated especially to help balance blood sugar levels. Infused with a potent combination of Bitter Melon and Nopal, Dia-B not only helps slow down the absorption of sugar into the bloodstream; but is also high in vitamins A, B, C, Fibre, and Antioxidants.
MAIN FEATURES:
Helps Provide Support For Healthy Glucose Metabolism

High Quality Fiber That Helps

Reduce

Cholesterol, LDL And Triglycerides 

Helps Assist In Managing Blood Sugar Levels

Helps The Body To Metabolize Carbohydrates And Fats For Better Use/Storage In The Body

Nopal Cactus' 17 amino acids, 8 of which are essential and must be ingested as food, provide more energy and less fatigue by helping the body lower blood sugar, elevate moods, suppress appetite and provide nutrients. Fat buildup is prevented, while fat breakdown and excretion is increased. Its vegetable protein helps the body pull fluids from the tissue back into the bloodstream, thereby diminishing cellulite and fluid retention.
RECOMMENDED DOSAGE:
Adults: Take 2 capsules two times a day
90 Vegetable Capsules
Dietary Supplement
100% Halal Certified
Bitter Melon is a plant used in India and parts of Asia as a natural treatment for Diabetes. The herb's active ingredient, Gymnemic Acid, is extracted from leaves and roots, and helps to lower and balance blood sugar levels. The unique shape of Gymnemic Acid molecules are similar to that of glucose, allowing it to fill cell receptors in the lining of the intestines, thereby preventing uptake of sugar molecules.
MEDICINAL INGREDIENTS:
Bitter Melon Extract (Momordica Charantia) 100 mg
Nopal (Opuntia Ficus-Indica) 225 mg
Chromium Picolinate 2.2 mcg


NON-MEDICINAL INGREDIENTS: 
Hypromellose, Magnesium Stearate
Risk Information: 
Consult a health care practitioner if you have diabetes. Do not use if you are pregnant or breastfeeding. If a hypersensitivity, such as an allergy, has been known to occur; in which case, discontinue use. Discontinue use and consult a health care practitioner if you experience symptoms of hypoglycemia including feelings of anxiety, dizziness, tremor, sweating, nausea or headache.