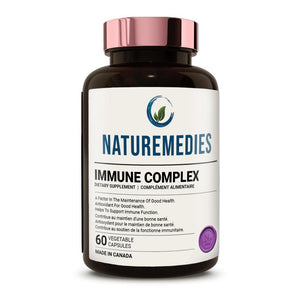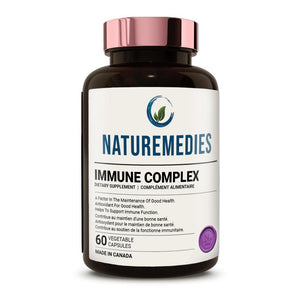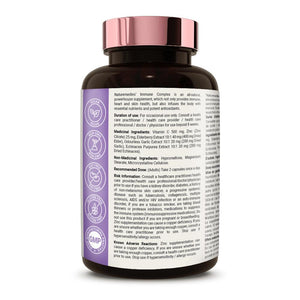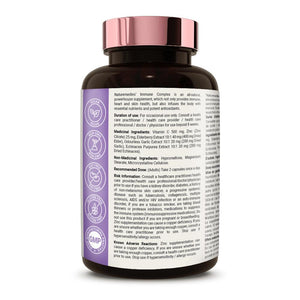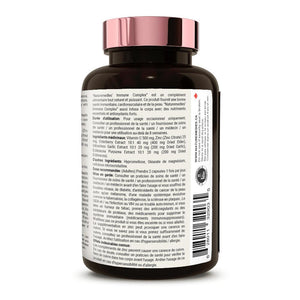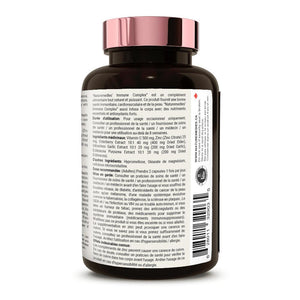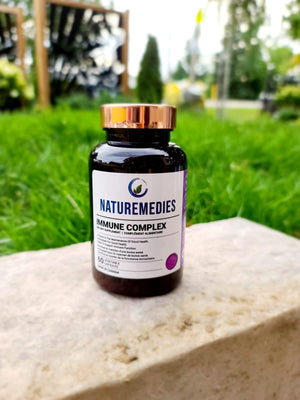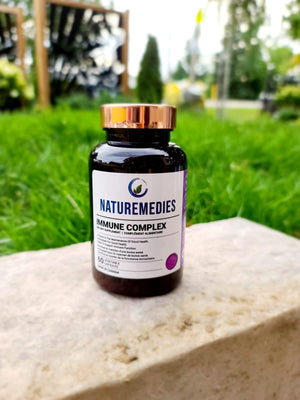 On Sale
Immune Complex
Boost Your Health with Our Immune Complex Supplement!
Are you trying to live a healthier lifestyle but are unsure of the best supplement for you? Try our Immune Complex supplement. Providing you with an array of ingredients including 500mg of Vitamin C, this product is designed to improve skin and heart health as well as enrich the body with a range of essential nutrients.
This well-rounded supplement is a fantastic choice if you are looking to give your health a general boost, and protect yourself against the flu. By improving your immune system in the form of supplements, you are benefiting from a year-round defense system that protects you from difficulties such as inflammation, respiratory problems and cold and flu symptoms.
The best place to buy an Immune Complex supplement online? Right here at Naturemedies. With fantastic products and professional customer service, we are amongst the most trusted and most loved suppliers of vitamins in Canada. Read More
Health and Well-Being Should be a Priority for All
Especially in recent times, health and well-being is becoming more and more of a priority worldwide. Looking after ourselves has become a daily practice with many individuals eating healthier and exercising more. Whilst these are fantastic steps to take, it is also important to ensure you are consuming the right vitamins and minerals.
The easiest way to ensure this is by adding supplements to your diet. With a set amount of each nutrient, you can be sure that you are receiving your recommended dose each and every day. At Naturemedies (best place to get vitamins online in Canada), we can help you optimise your intake.
Working openly and honestly, we provide clear details on each of our products, so you have full transparency of the vitamins you choose, the properties of every ingredient and the benefits of each too. Read about our popular Immune Complex supplement online or get in touch to speak in detail with our professional team.
We Use Only the Purest Ingredients That are Packed with Nutrients
We believe in providing our customers with health benefits through natural remedies. To optimise the goodness in all of our supplements, we use only organic ingredients. That's right, when you choose our Immune Complex supplement, you will receive 100% of the nutrients with no exposure to toxins or other chemicals. Independently tested, our products are proven to contain only the purest, nutrient-rich ingredients, so you can shop our range with confidence that you are purchasing high-quality vitamins.
We are proudly Halal Certified, and all of our products are free from alcohol, GMOs, gluten and gelatin in a bid to make our products accessible to all dietary and cultural requirements. Optimising your health doesn't have to be hard when you have Naturemedies by your side.
Browse Our Range or Get in Touch Today!
The time to take control of your health and well-being is now. Read about the fantastic benefits of our immunity supplements online or get in touch to speak to our professional team about your needs. We also provide Graviola supplement and Halal vitamins Canada on our online store. We look forward to hearing from you soon. Read Less
BOOST YOUR IMMUNITY
Naturemedies' Immune Complex is an all-natural, powerhouse supplement, which not only provides immune, heart and skin health, but also infuses the body with essential nutrients and potent antioxidants. 
MAIN FEATURES:
A Factor In The Maintenance Of Good Health 

Helps To Support Immune Function 




A Uniquely Balanced Formula For Everyday Use

Provides Year-Round, 24/7 Health Defence & Support
RECOMMENDED DOSAGE:
Take 2 capsules once a day

60 Vegetable Capsules
Dietary Supplement
100% Halal Certified
Echinacea has been found to contain several compounds, which have antimicrobial and antiviral properties. It has been shown in numerous studies that it helps to improve immunity, strengthen the body's defense against germs, blood sugar and inflammation. As well, Echinacea
possess multiple beneficial actions in the treatment of viral respiratory infections.
Garlic has been used as a medicine throughout ancient and modern history. 
Studies have found that the active compounds found in it, can not only reduce blood pressure, but also help boost the function of the immune system. Garlic is also enriched with Vitamin B1, B2, B3, B6, Folate, Vitamin C, Calcium, Iron, Magnesium, Manganese, Phosphorus, Potassium, Sodium and Zinc. The famed Greek physician,
Hippocrates, promoted the use of Garlic for treating respiratory problems, parasites, poor digestion, and fatigue.
The berries and flowers of Elderberry are packed full of vitamins and antioxidants that help to boost the immune system. Not only can it help control inflammation and lessen stress, but Elderberry is also often recommended to help prevent and ease cold and flu symptoms
MEDICINAL INGREDIENTS:
Vitamin C - 500 mg

Zinc (Zinc Citrate) 25 mg

Elderberry Extract 10:1 40 mg (400 mg Dried Elder)

Odourless Garlic Extract 10:1 20 mg (200 mg Dried Garlic)

Echinacea Purpurea Extract 10:1 20 mg (200 mg Dried Echinacea)

NON-MEDICINAL INGREDIENTS:
Hypromellose, Magnesium Stearate, Microcrystalline Cellulose

Risk Information: 
Consult a healthcare practitioner/health care provider/health care professional/doctor/physician prior to use if you have a kidney disorder, diabetes, a history of non-melanoma skin cancer, a progressive systemic disease such as tuberculosis, collagenosis, multiple sclerosis, AIDS and/or HIV infection or an auto-immune disorder, if you are a tobacco smoker, are taking blood thinners or protease inhibitors, medications to suppress the immune system (immunosuppressive medications). Do not use this product if you are pregnant or breastfeeding. Zinc supplementation can cause a copper deficiency. If you are unsure whether you are taking enough copper, consult a health care practitioner prior to use. Stop use if hypersensitivity/allergy occurs.